Walkable City Rules: 101 Steps to Making Better Places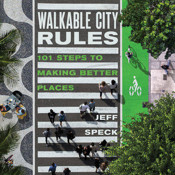 If you've read "Walkable City," I don't know that there's much new here, but it's more approachable. There are 101 smaller "rules" about how to fix cities and make them more friendly to pedestrians. It's clearly geared to local politicians and city planners, but I am neither and I loved it. If you love your city, you'll love this book.
Book Info
312
2018
1610918983
9781610918985
I have read this book. According to my records, I completed it on December 10, 2018.
This book is currently in my home library.