Books by Deane Barker
I have published four books about CMS and related technologies and disciplines.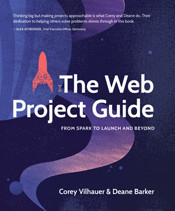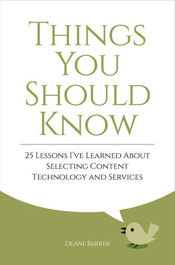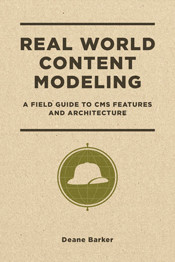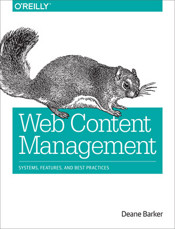 They are listed here in reverse order of print publication.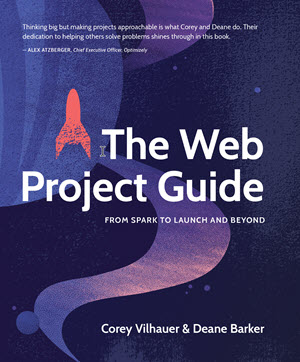 The Web Project Guide: From Spark to Launch and Beyond
This is a long look at the entire process of delivering a content-managed website. There are 26 phases, from the initial idea to figuring out how to support it once it's running.
It was published to the web, two chapters per month – you can view the entire book in its current state at the URL above.
I co-authored this with my friend Corey Vilhauer. Corey had delivered most of the first half chapters which deal with content strategy. I took over midway and delivered the second half chapters, which are more about technical implementation. And then we both got together and did an "integrative edit" where we put the book together.
We're exploring some different models of learning (I became interested in this after reading Why Books Don't Work). We've recorded some episodes of a podcast, and hopefully we'll get that published.
This book was conceived while I was still employed at Blend Interactive, so I actually don't own the copyright to it. It's split between Corey and Blend.
Sam Otis has done some amazing original artwork on the website.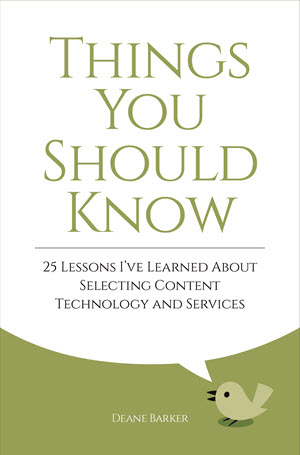 Things You Should Know: 25 Lessons I've Learned About Selecting Content Technology and Services
This book started as a blog post in 2017, but grew until it was just too big. It sat around in Google Docs for about a year. In 2019, when I joined Episerver, we figured it might have some marketing value. I finished it, and Episerver paid to have it designed by Sam.
The theme is things "a little bird told me," hence the bird on the cover (I named him "Trevor") and the speech bubble with encapsulates the title.
It was a little odd in that I had all 25 chapters in place as smaller (500-word-ish) blog posts. When I needed to expand it, I was in a position to just enlarge each of them. So I would just add anecdotes and expand upon points, but I never changed the structure much from when it was originally put together.
I wrote it using the same tech stack as the content modeling book – Markdown-to-HTML, CSS, and Prince for the PDF. I did an ebook for this, and was forcefully introduced to how weird and vague ebook formatting can be, and how wild creating a MOBI file can be for Kindles.
The book published in April 2020 (right in the middle of the COVID-19 quarantine). Episerver is using it in their 2020 marketing.
At the end of the book, I invited people to submit other lessons I could include in a future issue. Between this, and my own experience, I've identified a few others I would include.
The idea of "curb appeal" and how some features that look amazing, might not provide lasting value, and vice-versa.
How submitting to your integrator's project methodology might be a good idea, especially during your build.
How appeals to simplicity are a manifestation of Gall's Law – simple systems will get more complex over time
All about references – do they actually provide any insight into how a vendor or integrator will work out?
How an RFP and functional spec are not the same thing. They have different purposes, and confusing them is dangerous.
How "agile" is hard to do in an external services company, rather than a group of internal developers
Industry expertise is probably not as helpful as you think it's going to be
Some of these came from a discussion about the book during a Boye and Company call, about which Janus made a recording and wrote a blog post.
Several chapters from this book have been published by Episerver.
Episerver will even give you a free copy, if you register.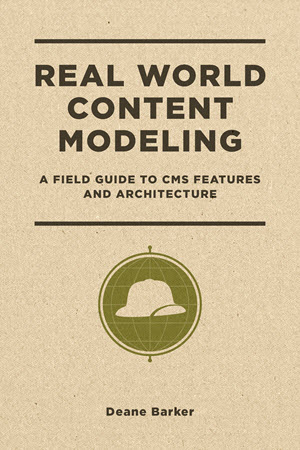 Real World Content Modeling: A Field Guide to CMS Features and Architecture
This is a look at the all the content modeling features of a typical CMS, with notes on how they're normally architected and the challenges you might face while modeling during an implementation.
This started out as a blog post, but got too long. I was trying to come up with some standards for content modeling, and it morphed into a polemic on how different CMSs allow you to model content. It took me about three months to write, from start to publication. I had the first draft of the manuscript done in 30 days.
I wrote this in Markdown (via MarkDig) with some templating in Scriban, and turned it into a PDF via HTML, the W3C Paged Media spec, and Prince. (I used this same method for several books in this list.)
I self-published this. Episerver gave away 500 copies at their conference in Miami in 2019, which resulted in a mad rush at the end to get it printed. There are a few mistakes that I need to correct, and I still need to generate an ebook for it.
Sam Otis designed the cover as kind of a last minute thing. We needed a slide for a Blend Interactive pitch deck which showed the books I had written. I told him that I liked the phrase "field guide" and the idea of a pith helmet. Sam tells me that it took him just a couple hours to come up with that.
I did a member conference call with Boye and Co and talked about the process of writing the book and the contents of it.
You can read this entire book online.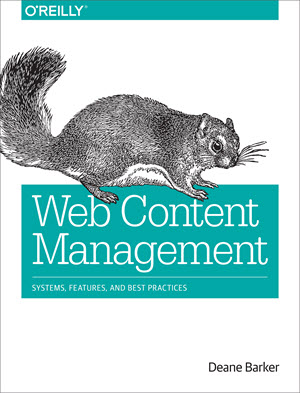 Web Content Management: Systems, Features, and Best Practices
This book covered the entire scope of web content management (as I knew it at the time). Most of the content is still highly relevant, though it did miss the headless trend by about a year.
I submitted this book idea through a form on O'Reilly's website, and to my amazement, they accepted it. It took me about 20 months to write.
O'Reilly was largely hands-off through the writing process. They did considerable work when the manuscript was complete and the book "went to production." The book was written in a Markdown-variant called AsciiDoc, submitted to a Git repo, and rendered through O'Reilly's Atlas system.
Last I heard, it's sold a few thousand copies. My reports tell me that it gets read a lot on the O'Reilly Safari platform. Several times, O'Reilly told me the book was "performing to expectations." However, in 2018, I asked if I could write a Second Edition, and I was told that "the subject matter is no longer strategic" for O'Reilly.
I only ever saw it on the shelves of one bookstore: Powell's Books in Portland.
Interestingly, I was contacted once by a student from a university in Kurdistan (Northern Iraq). Apparently they use the book as a textbook. He had a question for an assignment, which I was so, so happy to answer.
The book's website is also the home to The Web Content Management Glossary. I was originally planning to put a glossary in the book, but then decided to do it as a web-only supplement.
The book gave birth to an email newsletter: Squirrel Notes.
I did Sarah Werner's podcast in late 2015 and talked for an hour about the process of writing the book.