The Heights: Anatomy of a Skyscraper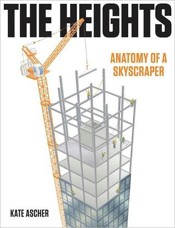 I'm giving this five stars because it absolutely achieves what it sets out to do. It's a glossy, illustrated love letter to how skyscrapers are built and managed. If that's what you want, then this is your book.
It's not very deep, but it doesn't really try to be. The illustrations are well-done, and helpful. There are chapters on planning, designing, building, safety, etc. The writing is clear.
The author has a long history in architecture, urban planing, and real estate. Years ago, I read her first book The Works which was similar in format, but discussed the inner workings of a big city like New York.
Again, this is not a deep book with much nuance, but if you like engineering and tall buildings (and I very much do), then you'll enjoy this.
Book Info
208
2011
1594203032
9781594203039
I have read this book. According to my records, I completed it on November 20, 2021.
This book is currently in my home library.