Ploductivity: A Practical Theology of Tools & Wealth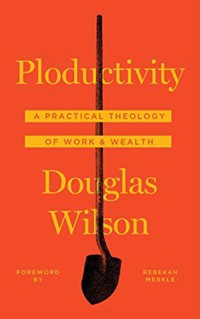 This book is an attempt by Douglas Wilson to convey a "theology of work," and explain how any work is blessed and sacred. The book is promoted as more of a celebration of working slowly – plodding away at something, rather than trying to rush through it.
Wilson is a theologian. He's very prominent in the Reformed denomination. He's very opinionated, and wildly prolific – he has published over 100 books.
This is a short book – just over 100 pages. The chapters are maybe 7-8 pages each. You could read this in an hour. There is one chapter at how to work slowly. Everything else is some attempt at applying theology to the concept and practice of work in general.
I didn't get much out of it. I like the word "ploductivity," and I think the concept of moving slowly and deliberately has merit. I enjoyed the book as a celebration and rationalization for that. Now I have a word for it, and some confidence that others share the sentiment.
In some ways, the book is motivational. Do you work slowly over time? Well, this book will make you feel good about that.
But did the book change my life in any way? No.
I feel like it was maybe a little…lazy? I don't know a lot about Douglas Wilson, but he's clearly a brand, and he likes to sell books. I get the feeling he just figured out he could connect a bunch of Bible verses, throw in a little practical application, and have a new, marketable title.
Maybe that's cynical.
Book Info
I have read this book. According to my records, I completed it on November 22, 2021.
A softcover copy of this book is currently in my home library.