This is Gonna Be Hard
There's something destructive we do with the best of intentions, and that the entire diet and fitness industry does with more sinister intentions. It seems innocent, even benevolent, but it wears people down in ways we don't anticipate.
We tell people that something is going to be easy, when it's not. Specifically, we tell people that eating well and staying in shape is simple. We wrap it in friendly phases like "simple lifestyle changes" and "healthy exercise habits."
We mean well, certainly. But we're often coming at this from the perspective of (1) someone who might never have struggled with their health, and (2) someone who is already on "the other side" and has developed good habits. From this perspective, it might seem easy, now. But it probably wasn't always easy and we know it.
The diet and fitness industry perpetuates this. I was reminded of this when someone jokingly posted a magazine cover in the Paleo Challenge Facebook group: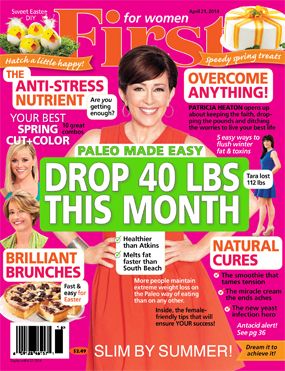 "Paleo Made Easy: Drop 40 Pounds This Month," it says. No joke: forty pounds. In a month. It's "easy."
While this is clearly hyperbolic and downright stupid (not to mention potentially dangerous), those criticisms are easy to spot. The more dangerous one is subtle: we're telling people that Paleo eating and weight loss is easy, when it's really not.
I eat largely Paleo, and I love it. But it's not easy. Restaurants are tough. The craving for sweets goes way, way down, but it's still there. And losing 40 pounds is a Herculean task for some people. It sucks. It will be the hardest thing some people have ever done. (I should know – I lost almost 100.)
Here's why this is destructive: because when someone gets into the thick of it – when they've lost 5-10 pounds and they're past the quick win and the novelty begins to wear off – then it gets hard. Suddenly, the scale doesn't go down every day, and cupcakes start looking better, and all the dedication gets called into question, and they're having a down moment, and they think, "I thought this was supposed to be easy…"
The next mental leap is the fatal one: "I must be doing it wrong, or I must just not be the type or person for whom this is going to work. I'm done." And then they quit. When it got hard, instead of understanding that it was just hard, they assumed they were broken, and so this clearly wasn't for them.
(For the mainstream diet and fitness industry, of course, this is just good business. They need us to keep quitting and starting over so they can keep selling us stuff. Understand that 99% of the industry would go out of business if we just stuck with it. Your failure is their next paycheck.)
With anything – fitness, diet, weight loss, even marriage – the beginning is easy and fun. We love novelty. New things make us happy, and when we see immediate changes to our health and fitness level, it's easy to stay motivated because these results convince us that our path to success is linear.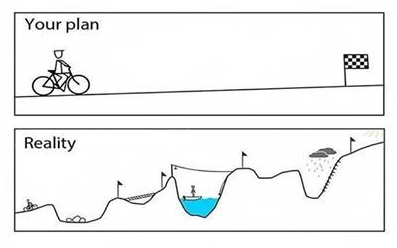 It gets tougher when those changes come slower. After the initial success, you dip into a trough that you're slow to climb out of (Seth Godin wrote an entire book this phenomenon, which he appropriately called "The Dip.")
It's not long before you don't PR every WOD, or you even start to go backwards, and you can't seem to break out of last place – these are the times that suck and when you start to question just why the hell you get out of bed at 5:00 a.m. to drag yourself into the box.
(You want morning motivation? Watch this video. It gets me going every time.)
Angela Duckworth is an education researcher at the University of Pennsylvania. She gave a famous TED talk in 2013 where she discussed research into high school students. She discovered that the key to success for students was an intangible personality trait that she called "grit."
Grit is passion and perseverance for very long-term goals. Grit is having stamina. Grit is sticking with your future, day in, day out, not just for the week, not just for the month, but for years, and working really hard to make that future a reality. Grit is living life like it's a marathon, not a sprint.
Grit is what gets you up at 4:30. Grit is what makes you pass on the dessert menu. Grit is what makes you keep working out when you've been in a downward spiral for two weeks and you can't remember the last time you were happy after a workout.
A key component of grit is accepting the reality that your workouts won't always be a Rocky training montage. I'm reminded of Jim Collins and his explanation of The Stockdale Paradox from the book "Good to Great." James Stockdale was a Vietnam POW who survived, largely through his mindset, which some people view as pessimistic, but was actually just realistic.
What the optimists failed to do was confront the reality of their situation. They preferred the ostrich approach, sticking their heads in the sand and hoping for the difficulties to go away. That self-delusion might have made it easier on them in the short-term, but when they were eventually forced to face reality, it had become too much and they couldn't handle it.

Stockdale approached adversity with a very different mindset. He accepted the reality of his situation. He knew he was in hell, but, rather than bury his head in the sand, he stepped up and did everything he could to lift the morale and prolong the lives of his fellow prisoners
Seeing the world through rose-colored glasses ultimately leads people to failure because they can't make it through the difficult times. We contribute to this when we set people up with unrealistic expectations.
If Bob walks into CrossFit carrying 100 extra pounds and not having exercised for 10 years, then here's the merciless truth: this is gonna be really freaking hard. Dropping that extra weight and getting back to good health is going to be one of the hardest things Bob has ever done.
I want to tell Bob this because he needs to be "vaccinated" against the hard times. When those crappy moments come, Bob needs to know that he's not wrong, he's not fatally flawed, and he's doing everything right. It just sucks sometimes. There are going to be plateaus, setbacks, depression, backslides, doubts, heartache, illness, and injuries. But that's okay, Bob, because we're in this for the long haul, buddy.
The unglamorous times are lurking out there: the rote workouts, the lonely mornings, the boring meals, the AMRAPs when you just plain sucked, and the post-WOD flops on the ground when you wonder why the hell you even bothered to come into the box that day.
These are the moments when it's not "easy." These are the moments when you think, "Am I really cut out for this?" These are the moments when you need to pick yourself up, ignore the voices that told you it was gonna be simple, and just keep going.
If you're prepared for these moments, you can push through them. If you're not prepared because you were convinced this was going to be easy, then these moments will destroy you.
This is gonna be hard. Great things usually are.