Why I Left, Why I Stayed: Conversations on Christianity Between an Evangelical Father and His Humanist Son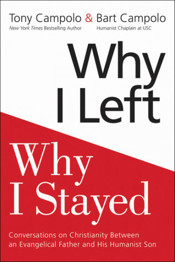 Wonderfully unique book written by a father and son, both of whom were Christian pastors and leaders. The son lost his faith and became a secular humanist and "humanist chaplain." This book was written a few years later by both of them, which explains why the son left the faith, and (gently) rebutted by father, explaining why he stayed.
I loved the dialectical style. The chapters are alternately written, and each makes reference to the prior chapter, as an indirect response. All throughout, the father and the son are loving and caring to each other … they just disagree.
The book is a model for respectful debate, and the son – while clearly and absolutely rejecting the supernatural – does make a fascinating case for secular love and even … dare I say it … secular spirituality. As someone deeply steeped in faith for most of his life, he's in a wonderful position to understand and accept the virtues of both sides of the belief coin.
It's a short read – about 150 pages. Highly recommended.
Book Info
176
2017
0062415379
9780062415370
I have read this book. According to my records, I completed it on December 4, 2019.
This book is currently in my home library.