What If Jesus Was Serious?: A Visual Guide to the Teachings of Jesus We Love to Ignore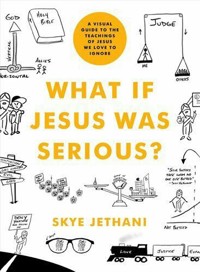 This is a lovely book of short essay chapters which explain teachings of the New Testament that we clearly often forget. Each one starts "If Jesus was serious…"
Examples:
then we will trust God more and politics less

then we will recognize the illusion of control that money creates

then we will recognize every person as valuable

then we will love the people who annoy us every day

then we will avoid displays that make us seem more devout that we really are
Jethani has a left-ward bent, so if you're a fundamentalist or social conservative, you might have problems with the book. There's a lot in here that seems progressive, so it's clearly not for everyone.
Each chapter has a cartoon that was drawn specifically for the chapter. I went looking and was surprised to find that apparently Jethani himself drew these.
Book Info
I have read this book. According to my records, I completed it on February 13, 2021.
A softcover copy of this book is currently in my home library.