The Last Jihad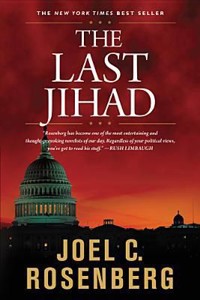 This is a first-rate political/military thriller.
Some backstory: Joel Rosenberg wrote five books in the "Last Jihad" series. Someone gave me book #4 – "The Copper Scroll" – and I loved it. So, now I'm going back and reading the entire series from the start.
The series has some controversy. It got into religious prophecy in the later books, climaxing in #3 where there's apparently an apocalyptic, supernatural "firestorm" that wipes out most of the Muslim population, and prompts most of the rest to convert (along with most Jews).
Rosenberg is unapologetically conservative. He was some type of assistant to Rush Limbaugh, and there are praise quotes from Limbaugh and Sean Hannity on the cover and inside flap. The book series has been characterized as a "Christian conservative thriller."
But all that aside, this is a fantastic book. It moves so, so fast – the first 100 pages are basically one extended sequence that you can't put down. A terrorist organization executes multiple simultaneous operations to try and assassinate world leaders. Then the race is on to figure out why.
There are very few religious overtones to this particular novel – certainly nothing supernatural. A couple of characters express Christian feelings, and POTUS is portrayed as a faithful Christian, but other than that, this is a classic Clancy-esque thriller. Lots of military porn and political maneuvering.
I finished it in two days. It was hard to put down, and I looked forward to picking it up, every time.
Book Info
I have read this book. According to my records, I completed it on .
A softcover copy of this book is currently in my home library.