Inside Comedy: The Soul, Wit, and Bite of Comedy and Comedians of the Last Five Decades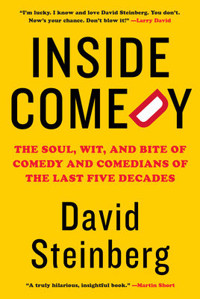 To appreciate this book, I think you need to know who David Steinberg is. I didn't know who he was. The whole thing didn't make a lot of sense until I did some research on Steinberg.
He's a Canadian comedian. I was born in 1971, so I didn't know him because his heyday was the 60s and 70s. He was quite well-known back then, it turns out. He did a lot of stand-up, and he appeared on The Tonight Show as a guest and host 140 times.
In the 80s, he switched to directing sitcoms. He directed a bunch of episodes of Mad About You and Designing Women and others.
He knew everyone it seems. In 2012, he started an interview show on Showtime called – wait for it – Inside Comedy. This was Comedians in Cars Getting Coffee before that show happened. Steinberg would interview some comedian about their craft.
This book is essentially the written record of his career. It's not so much a memoir, but he talks about all the angles of comedy that he saw – doing stand-up, then directing TV comedy, then doing interviews with comedians.
Steinberg was apparently good friends with every comedian on Earth. Steve Martin, Chris Rock, the Smothers Brothers, Mel Brooks, Bob Einstein, Jerry Seinfeld, etc. All the legendary comedians are in this book. They all knew Steinberg. They all told him stories.
And that's what the book is – it's just stories about comedy and comedians. That's not bad, so much, just a little – I don't know – repetitive? In fact, I skimmed the last 80 pages or so because it was just Steinberg transcribing and describing interviews he did with various contemporary comedians. (It gets a little fawning here too – Steinberg loved everyone, or else he just left out the people he didn't like.)
If you're a comedian, or you really love comedy, this book is for you. Otherwise, it's just story after story of comedians talking about comedy and Steinberg telling you how much he loves everyone.
Book Info
I have read this book. According to my records, I completed it on .
A hardcover copy of this book is currently in my home library.