Holy Roar: 7 Words That Will Change The Way You Worship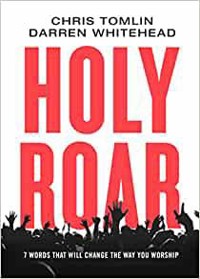 A short book that combines evangelism with etymology. The basic premise is that the English word "praise" has seven separate meanings in Hebrew.
The Hands of Praise

The Fools of Praise

The Music of Praise

The Expectation of Praise

The Posture of Praise

The Songs of Praise

The Shout of Praise
The book devotes a chapter to each of them.
The book is based on a sermon given by one of the authors. The other author is Chris Tomlin – one of the most popular contemporary Christian musicians working today – who decided to turn the sermon into a book.
Each chapter ends with Tomlin discussing one of his worship songs: the background behind it, and how it relates to the topic of that chapter.
I enjoyed short books like this. Too many times, publisher just flogs an idea to turn it into an acceptably-sized mass-market paperback. But this book is…humble. It makes its point, and doesn't try to do more than that. I appreciated that.
Book Info
I have read this book. According to my records, I completed it on .
A hardcover copy of this book is currently in my home library.