Everything is Figureoutable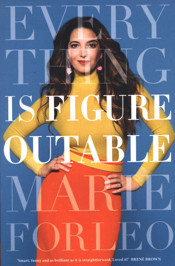 I feel like an idiot for this one, I really do.
I'm very curious. I look up stuff all the time, and I even keep track of it all. So, the title of this book made me thinking it was about…I don't know what? Research? Learning? Satisfying your curiosity?
It's not. This is a mainstream self-help book.
(OMG, I filed it under "Critical Thinking"…)
The author is some kind of personality. She has a podcast, I guess, and speaks at conferences? She seems to be something like Brene Brown, I gather. She milks the "Jersey Girl" persona pretty hard.
The book appears to be targeted to women. I understand the author's audience is mainly women, and all the examples in the book seem to be about women.
The chapters are pretty mainstream (these aren't the titles, just a quick summary):
Write down your goals
It starts with believing you can do it
Don't take no for an answer
Make some progress, every day
Fear is okay, just keep going
Peppered throughout are anecdotes from her life and journey. She was a fitness expert and dancer for a while – she apparently used to do those fitness videos where impossibly good-looking people workout on beaches.
Here's the thing – I want to trash this book, because I'm embarrassed I misjudged it from the title.
But… it's not a bad book, for what it is. Sure, I skimmed a lot of it, and there's nothing in here that I haven't read in a dozen other books, but if you're never read a self-help book and you want some motivational thinking, you could do worse than this book, honestly.
Book Info
304
2019
0241341035
9780241341032
I have read this book. According to my records, I completed it on August 3, 2022.
This book is currently in my home library.