Epic Content Marketing: How to Tell a Different Story, Break Through the Clutter, and Win More Customers by Marketing Less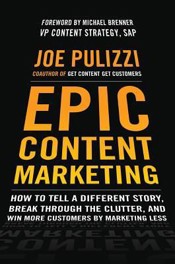 There are books that inform and there are books that inspire. This is both.
It's a delicate balance between practical down-to-Earth suggestions, and large-scale though-provoking visions. Pulizzi navigates the line well. The book gets you thinking about content marketing – specifically, what's possible – and also gives you some practical ways to start.
Chapters are short. Writing is crisp. And there's a nice mix of sidebars and input from other authors and experts.
Of course, no one can save you from yourself, and you're eventually going to have to get off your ass and do something. But if there's a better book for painting the picture of what's possible and then giving you a swift kick in the backside, I haven't seen it.
Book Info
332
2013
0071819894
9780071819893
I have read this book. According to my records, I completed it on April 7, 2014.
This book is currently in my home library.