Content Management Systems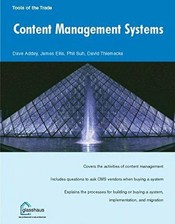 Hard to review, because it's 15-years-old, but a nice look back at what CMS was in 2002. It drifts a lot – talks about governance, content strategy, and design – but perhaps that's how "content management" was perceived back then?
Book Info
222
2002
190415106
9781904151067
I have read this book. According to my records, I completed it on February 25, 2017.
This book is currently in my home library.