Building and Managing the Meta Data Repository: A Full Lifecycle Guide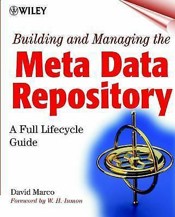 Given the title, I'm a little embarrassed to say I thought this book was about content management. It's not – it's about the use of metadata in data warehousing.
I stuck with it though because it discussed an aspect of data warehousing with which I wasn't familiar. It's dated, but well-written and I have a different perspective on the problem domain than I did before.
Book Info
416
2000
0471355232
9780471355236
I have read this book. According to my records, I completed it on March 16, 2017.
This book is currently in my home library.