The Bible Book: Big Ideas Simply Explained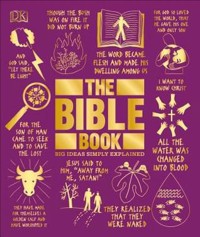 This a lovely, coffee table-ish book about the Bible.
It's a sequential tour through the Bible, story by story. Every story you've ever heard from the Bible – they're all in here. The chapter header explains the characters in the story, the themes, the timeframe of the events, and the verse references. The story narrative is explained, along with what it means in the bigger picture.
The format is so browse-able. The pages are big, and the text is in three-columns. It's interspersed with lots of sidebars, explainer graphics, and – something I love – historical artwork depicting the scenes of the story.
Great book. And I wasn't kidding about the coffee table part. I could see leaving this in the living room, and browsing through it every time you have a few minutes. Loved it.
#faith, bible
Book Info
I have read this book. According to my records, I completed it on November 11, 2020.
A hardcover copy of this book is currently in my home library.