Bloody Sunday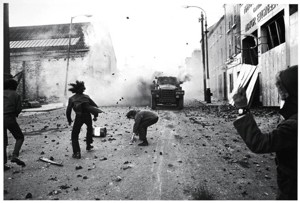 (Credit: Photo by Gilles Peress)
Lots of people have been killed on Sundays, and the phrase is used to describe lots of mass killings. Wikipedia shows 20+ events that are connected to the phrase.
The most recent event and the one most clearly associated with the phrase from this generation is a 1972 shooting of protesters in Derry, Northern Ireland by the British Army. In a 45-minute span, British paratroopers shot 29 people, 14 of whom would die (13 immediately; one months later of his wounds).
Two official investigations of the event were conducted. They conflict.
The initial investigation supported the Army, stating that they fired in self-defense at protesters carrying bombs and weapons.
Another report issued in 2010 faulted the Army, saying they were reckless and most of the protesters had no weapons. It also noted that a single paratrooper – "Soldier F" – killed five of the victims. Prime Minister David Cameron subsequently issued a public apology for the event.
In 2015, Soldier F was arrested for questioning. In 2019, he was charged. However, the charges were dropped in 2021 when evidence was deemed inadmissible.
Soldier F has since been identified.
Why I Looked It Up
I remember the U2 song "Sunday, Bloody Sunday." The lyrics go:
I can't believe the news today
Oh, I can't close my eyes and make it go away […]

Broken bottles under children's feet
Bodies strewn across the dead end street
But I won't heed the battle call
It puts my back up
Puts my back up against the wall
My reading of the lyrics strikes me as less a recounting of the specific event, and more just a polemic against The Troubles in general.
Then, in late January 2022, the NY Times published a long feature commentating the 50th anniversary of the event –
50 Years On, Bloody Sunday's Wounds Are Still Felt
Here's the lede:
The events themselves took a matter of minutes to unfold in a paroxysm of one-sided gunfire that snuffed out more than a dozen lives, each one of them a new martyr in Northern Ireland's somber annals of loss. But the effort to unravel what happened in those brief moments – to parse the antecedents and the outcomes, to trace the lines of command on the grisly day that became known as Bloody Sunday – devoured years of costly inquiry.