The Writer's Practice: Building Confidence in Your Nonfiction Writing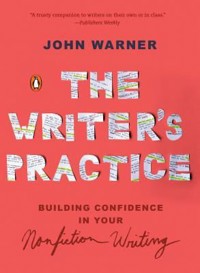 I abandoned this at about the halfway point, for two reasons:
I probably wasn't the right audience. It's geared toward more novice writers.

It's fundamentally a book of exercises (the title was pretty clear about this; I should have paid more attention). Each chapter is a writing prompt that you're supposed to actually sit down and do, and I wasn't that interested. Don't get me wrong, they're quite good – they're well thought-out, and the larger goal is very clear. The author teaches non-fiction writing, and he's clearly quite skilled at that. But I'm not a "do the exercises" kind of guy, I guess.
So, not a good fit, but not a bad book. So I'm not giving it a star rating because it wouldn't really be fair. The book wasn't good for me but would probably be great for someone else.
Book Info
256
2019
John Warner
06 18, 2022
I have read this book. According to my records, I completed it on February 15, 2019.
A softcover copy of this book is currently in my home library.