Why We Make Mistakes: How We Look Without Seeing, Forget Things in Seconds, and Are All Pretty Sure We Are Way Above Average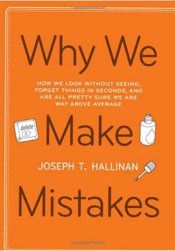 Another book about behavioral science and social psychology. It's an entertaining read, but doesn't really break new ground. It's basically a bunch of chapter of themes, each of which is a bunch of anecdotes stacked on each other, a la Gladwell.
Book Info
221
2009
0767928059
9780767928052
I have read this book. According to my records, I completed it on June 30, 2019.
This book is currently in my home library.