What Christians Believe: The Foundation Series Volume One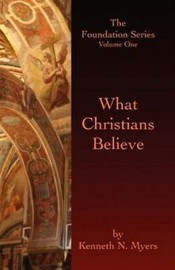 I quite enjoyed this. It approaches the subject of Christian belief through a deconstruction of the Apostles and Nicene creeds, taking them apart, sentence by sentence, and examining what each part means.
Understand that this is not an apologetic – there's not much justification or proof offered for any of it – but it's a solid introduction to the core tenets of Christian theology.
Book Info
198
2009
1439231079
9781439231074
I have read this book. According to my records, I completed it on July 12, 2015.
This book is currently in my home library.