Walking the Bible: A Journey by Land Through the Five Books of Moses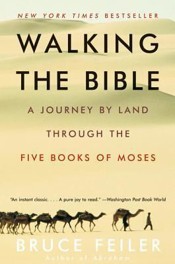 I'm not rating this one because I quit about halfway through. What bothers me is that I don't know why I didn't like it.
I am very interested in the subject matter. This should absolutely be a book I like. I have no idea why I couldn't connect with it, but dreaded picking it up.
It's about a journalist who wanders around the Holy Land, accompanied by an Israeli archeologist, and investigate sites from the Bible. It was just the Old Testament from the part I read. I assume they get into the New Testament later.
I can't explain it. This one just didn't click for me.
Book Info
451
2005
0060838639
9780060838638
I have read this book. According to my records, I completed it on March 13, 2022.
This book is currently in my home library.