Vanderbilt: The Rise and Fall of an American Dynasty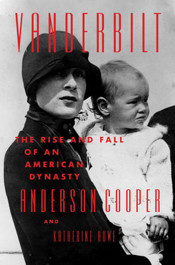 Enormously entertaining history of the Vanderbilt family by CNN's Anderson Cooper, who was a Vanderbilt on his mother's side.
Cornelius "Commodore" Vanderbilt was a self-made man. He started ferrying people on a small boat around New York Harbor and ended up becoming the richest man the world had ever known via an empire of shipping and railroads.
Then his family…well, it's complicated. Some of the kids stepped up and helped run the company, and others very much did not. For a while, it seemed like many of the Vanderbilts simply existed to spend money and, well, be rich. There was a lot of dysfunction, and since the family thrived during the Gilded Age, there was a lot of social posturing.
My understanding is that there's nothing really left of the Vanderbilts. Some people still carry the name, but the fortune has been spread to the winds. In fact, an early chapter details The Breakers, which was the family's Rhode Island mansion, and how it had to be sold to a historical society to cover expenses, and the last remaining Vanderbilt resident lived in isolation on the top floor, until she was eventually asked to leave.
As Cooper works down through the generations, the story fractures quite a bit. Some chapters are just random stories that tie up some of the loose ends of the family tree.
However, the ending is quite poignant when Cooper discusses his mother. He loved her dearly, though she was a bit of a tragic figure. His one brother killed himself (in front of her, evidently), and other than lending her name to a famous fashion brand, his mother seemed to only be very good at spending money.
In the end, the book is basically the story of Cooper coming to terms with his family history. Early on, she says, "I'm not a Vanderbilt, I'm a Cooper," and that he hasn't looked into that side of his family very much. One gets the impression that this book is as much a personal journey as it is an entertaining history.
Book Info
336
2021
0062964615
9780062964618
I have read this book. According to my records, I completed it on April 24, 2022.
This book is currently in my home library.