Sugar: A Bittersweet History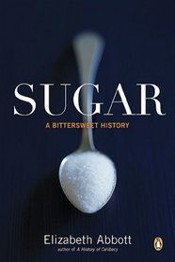 This is a very good book, but the title is pretty unclear. It really covers the history of sugar from one angle: slavery, or perhaps labor exploitation in general.
It's fair to say that slavery is a big part of sugar, for sure. And this book covers it up, down, and sideways. And that's pretty much all it covers. It's hundreds and hundreds of pages about slavery, that just happens to use sugar as a backdrop. I feel like the book could have just as easily been about cotton slavery, because sugar is almost incidental to everything.
Even after the slave trade is abolished, and then slavery itself is abolished, the book just pivots into labor exploitation. It turns out that slavery can exist even when slavery is illegal, and you can still pay people in such a way that they're effectively slaves.
I'm giving the book 5 stars because it's well-researched, and reads very well. But the book really isn't about sugar at all. In the very last chapter, it pivots a bit and talks about sugar's effect on the rest of society. In fact, I believe the last chapter is the only chapter that takes place in the 20th century.
Again, good book, but be aware that it's not really about sugar, despite the title.
Book Info
464
2008
0143017136
9780143017134
I have read this book. According to my records, I completed it on January 9, 2019.
This book is currently in my home library.