Structured Analytic Techniques For Intelligence Analysis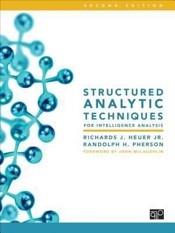 Explanation and instruction on methods to examine intelligence or any body of information. Multiple exercises to minimize your chance of groupthink, blindness, or assumption. For maximum usage, this is the type of book you need to keep handy, as a reference. One reading will likely not be enough, except to make you aware that multiple methods of structured analysis exist.
Book Info
368
2010
1608710181
9781608710188
I have read this book. According to my records, I completed it on June 24, 2017.