The Story of Writing: Alphabets, Hieroglyphs, & Pictograms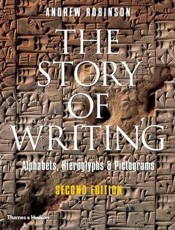 Interesting, full of pictures, but it got ponderous. Weirdly long, because it's basically a picture book, but with a lot of text, so you spend a lot of time starting and ending sections, and looking at captions. You don't really get in a narrative flow. Almost a coffee table book, really.
Book Info
225
1995
0500281564
9780500281567
I have read this book. According to my records, I completed it on October 6, 2017.
This book is currently in my home library.