Master Thieves: The Boston Gangsters Who Pulled Off the World's Greatest Art Heist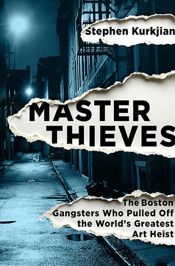 I've become a little obsessed with the Isabella Stewart Gardner museum heist lately, after listening to the "Last Seen "podcast. This book is by the definitive reporter to cover the crime – he's been reporting on it, on and off, for 25 years.
Sadly, the book is scattered. It's not a beginning-to-end summary, but more a collection of vignettes about what might have happened. That might not be the author's fault, since the narrative has fractured so much over the years, but I still feel like the book could have been organized better.
Book Info
272
2015
1610394232
9781610394239
I have read this book. According to my records, I completed it on December 25, 2018.