Let the World See You: How to Be Real in a World Full of Fakes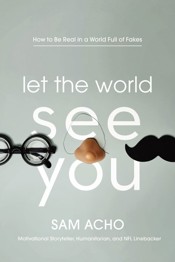 So, it's tough not to like this book, because Sam Acho is an engaging writer and seems like a lovely person.
But the book is unfocused, and doesn't seem to go anywhere. The title (and subtitle) hint that's it about letting the world see "the real you." But the result is really just a bunch of stories about Acho's life and faith journey.
Now, this isn't bad. He's an entertaining writer and has had quite a life. His parents immigrated from Nigeria, and he eventually had an above-average NFL career. He also seems to make friends easily, and be a wonderful person who is making the world a better place over all.
So, it was a fun read. It's relatively short, and I enjoyed picking it up. But I just don't think the text lived up to the title. It's more of an autobiography that vaguely touches on the idea of being genuine to yourself and to God.
Not a "bad" book, by any stretch. And I feel like I'm over-qualifying a three-star review now, but it just didn't seem to have a larger point to it.
Book Info
240
2020
1400220270
9781400220274
I have read this book. According to my records, I completed it on April 30, 2022.
This book is currently in my home library.