jQuery Cookbook: Solutions & Examples for jQuery Developers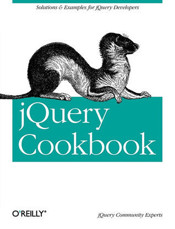 I started reading this all the way through, but – like most "Cookbook" titles – it gets increasingly esoteric later on. Still, a very good book which helps you get a grasp on jQuery through considerable examples. Many examples are incredibly basic, which means the books functions well as an introductory text all by itself.
Book Info
480
2009
0596159773
9780596159771
I have read this book. According to my records, I completed it on July 6, 2015.
This book is currently in my home library.