Indistractable: How to Control Your Attention and Choose Your Life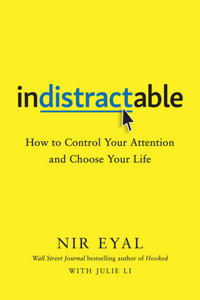 This was recommended, but I didn't love it. It's a "cookbook" of sorts – each chapter is a short "hack" to try to keep your attention span on track. There's nothing new here. You've probably seen all these before.
The author does try to fit everything into a four point framework.
Master internal Triggers

Make time for traction

Back back external triggers

Prevent distraction with pacts
He also has chapters for how to make your workplace less distraction-focused, and how to help your kids develop good habits.
Each chapter has a handy bullet-point summary at the end, which was nice. And there's an index of these at the end of the book. I did appreciate those.
Book Info
I have read this book. According to my records, I completed it on May 13, 2021.
A hardcover copy of this book is currently in my home library.