A History of the World in 6 Glasses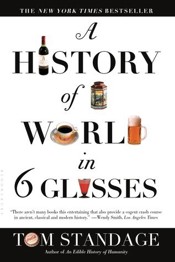 A fun book about six beverages that have figured heavily in world history:
Beer

Wine

Spirits (hard liquor, basically)

Coffee

Tea

Soft drinks
Each of these have influenced the world enormously in different ways. The world grew up around these drinks –
People wanted access to them

Congregating over them was a key societal influence

Governments taxes them

Moralists condemned them

People went to war to get access to them

Countries exported their culture through them in a kind of "beverage imperialism"
Example: tea played heavily in both the American Revolution and the British occupation of Hong Kong for 100 years. The book examines the history behind tea as a economic tool – how governments angered people by taxing it, and how it was used as currency in the opium trade.
Tom Standage is a great history writer. I also enjoyed his book about the history of the telegraph: The Victorian Internet
Book Info
336
2006
0802715524
9780802715524
I have read this book. According to my records, I completed it on February 23, 2021.
This book is currently in my home library.