A History of Reading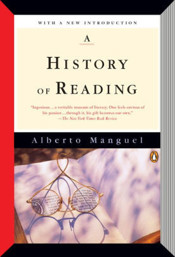 Kind of an odd book, honestly. It's really a meditation on reading in all its forms. Each chapter covers a different aspect of reading: Being Read To, The Author As Reader, etc.
What it didn't seem to be was an actual "history of reading," as the title suggested. That doesn't mean it's bad, it's just not what I thought was going to be.
If you love books and love to read, this is your jam. But read it like a devotional – one chapter at a time, with an open mind, and time to sort of meditate on the contents. I would re-title the book as "A Celebration of Reading."
Book Info
372
1997
0140166548
9780140166545
I have read this book. According to my records, I completed it on April 8, 2021.
This book is currently in my home library.