Content Design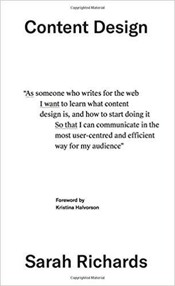 Nice book about content-focused design. I liked her explanation/focus on user stories, and the delineation of user stories from "job stories" was something I hadn't seen before. Very quick read. The book is short, and many pages are…conceptual, with big fonts – maybe a dozen words or so.
I measure of a good book in my industry is not only books that I enjoyed, but books that I wish my clients would read. This is one of those books.
Book Info
224
2017
1527209180
9781527209183
I have read this book. According to my records, I completed it on March 31, 2018.
This book is currently in my home library.