Business @ the Speed of Thought: Succeeding in the Digital Economy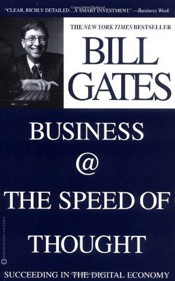 This is Gate's second book, four years after "The Road Ahead…"
Like that book, it's an exercise in vision-casting, though it's directed to business leaders and how the internet is going to change business. Each chapter covers a different aspect of business, and ends with a checklist of major points, and questions to ask yourself about your business environment.
This didn't seem as revolutionary as "The Road Ahead" and I'm not sure why. I think it was just more obvious how the business aspects of the internet were going to play out? Both then and now.
I did find the phrase "The Web Lifestyle" pretty funny though. Lots of neat ideas about how to "live the Web lifestyle." Those were the days…
Book Info
496
2000
0446675962
9780446675963
I have read this book. According to my records, I completed it on December 20, 2020.
This book is currently in my home library.