Artificial Intelligence Basics: A Non-Technical Introduction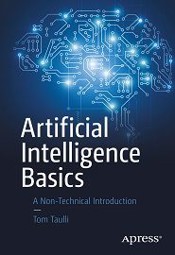 More of an anthology, perhaps? This book fulfills it's title, but it careens around weirdly in scope. It goes from very high-level to very low-level.
I'm torn on it. It was helpful to prove the point that AI is really category, not a single technology.
I'd give it a 3.5 if I could.
Book Info
187
2019
1484250273
9781484250273
I have read this book. According to my records, I completed it on November 13, 2019.
This book is currently in my home library.