The Art of Noticing: 131 Ways to Spark Creativity, Find Inspiration, and Discover Joy in the Everyday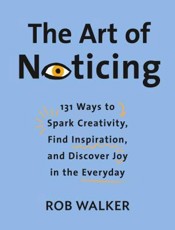 An absolutely lovely little book detailing 131 interesting and sometimes absurd ways to notice more things. Exercises like coming up with a script for random video footage you're watching, interviewing an inanimate object, calculating the exact halfway point between you and a friend and meeting there, purposefully looking for and reading every plaque you find, etc.
It's a breezy read, and genuinely has some remarkable insights on things we don't do, that we probably should. I loved it.
Book Info
256
2019
0525521240
9780525521242
I have read this book. According to my records, I completed it on December 10, 2019.
This book is currently in my home library.